A
s an arts organization, Harborlites is always looking for new and innovative music to perform, opportunities to improve the education of our members, and ways to improve our youth outreach programs. As a non-profit organization, we appreciate the support of our friends in all of our activities, including fundraising opportunities. Your participation makes a difference!
Some of the ways you can help Harborlites include:

Ralphs
If you shop at Ralphs, Harborlites can get a donation every time you shop. Sign up, it's easy.
Step 1:  Go to www.ralphs.com
Step 1.5:  "SIGN IN" or "CREATE AN ACCOUNT."
Step 2:  On the top menu, choose "My Account/Account Settings/Community Rewards."
Step 3:  Choose "Enroll" at the bottom of page.
Step 4:  Follow the steps – put in your email address and password, put in your zip code and choose the store you frequent. Be sure to enter Harborlites or #81056 to make sure the chorus is getting the contributions.
Step 5:  If you have one, choose "I already have a Ralphs Rewards Card," and enter the rewards number on the back of your card. (If you don't have a card or know the number, ask at your Ralphs Store. They can look it up and give it to you!)
Step 6:  Verify all the information on the next page.
Step 7:  Go to your email where you'll have an email waiting for you from Ralphs – one last step to activate! Click on the link about halfway down the email and you're done!

There is a customized link for our chorus:  http://www.iGive.com/harborliteschorus
Sign up and shop at any of the 900+ stores listed through the iGive.com portal and our chorus makes money, just like that, with no cost to you! Happy shopping!
See's Candies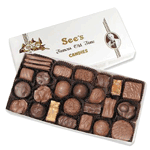 In a semi-annual fundraiser, Harborlites members sell See's Candies, the delicious locally-made chocolates. The candies are available at the regular retail price (there is no mark-up for our non-profit organization). Gift certificates are also available to make it easy to share See's Candy with friends and family members who are far away or who may want to make their own candy selections.
To participate in our See's Candy fundraiser, contact any member of the Harborlites Chorus to find out when the next sale will take place.

Plastic Bottles
It's the perfect win-win, benefitting both the chorus and the environment. Harborlites members recycle plastic bottles and aluminum cans with the proceeds heading to the chorus. Bottles are collected on a weekly basis at rehearsal sessions. If you would like to participate in our recycling program, contact any member of Harborlites for more information.

Cell Phones
Retiring an old cell phone? Donate it to the chorus for recycling and proceeds will benefit Harborlites.
Keep in Touch
There is always something new going on with Harborlites. Keep in touch with Harborlites via Facebook to find out all the latest chorus activities or join our mailing list to make sure you're one of the first to hear about upcoming events!